HYBRID (50% INDICA 50% SATIVA) | SOME VARIATION | SWEET FLORAL APPLE
DELICATE FLORAL | SWEET APPLES
Apple Blossom is a heavily selected cross of two of our earliest and most popular varietals, Blueberry Muffin x Dream Queen. This combo combines both one of our most unique and favorable terpene profiles (BBM) with one of our highest-producing lines (DQ). Apple Blossom produces dense trichome-covered flowers, with hints of blue and purple. A warm, delicate floral scent with notes of sweet apple hits just right. This is a strain any mother can love.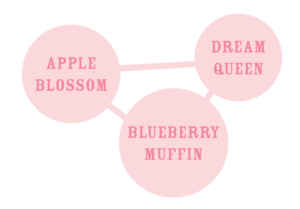 Parentals: Blueberry Muffin x Dream Queen
Ind / Sat: Hybrid
Flavor / Taste / Smell: Sweet Floral Apple
Characteristics: Huge Producer
Auto Flower Version: 70-80 Days Seed to Harvest
Auto Parentals: BBM x DQ x Sour Apple Auto
10 Feminized Autoflowering Seeds per pack!