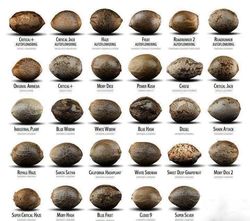 Initiative 71, which took effect on 2/26/15, permits residents of the District of Columbia 21 years of age or older to: possess up to two ounces of seeds in one's primary residence without penalty; Transfer up to one ounce of seeds to another person 21 years of age or older is also permitted; Adults 21 years of age or older may cultivate no more than six plants (with three or fewer mature at any one time) in one's primary residence without penalty. Provided that all persons residing within a single house or single rental unit may grow no more than twelve plants, with six or fewer being mature, flowering plants.
DSCE will not work with untested breeders or seed banks that only produce first generation strains. We only work with breeders that have stabilized genetics that produce results generation after generation. DCSE and its affiliates provide "souvenir seeds," otherwise known as hemp seeds, that are negligible in THC and are legal in most states and countries to possess. Our souvenir seeds may be used for collection or for food or for genetic preservation purposes. We do not condone illegal acts with our products. Our products are not intended to diagnose, treat, cure or prevent any disease.
Can you demonstrate a need for seeds? We have a limited number of seeds donated by generous breeders just for you! ​Please note priority is given to those in need including veterans, persons with disabilities, and care providers. Thank you for your time and we hope you enjoy your stay at DCSE!