APPLE BLOSSOM
 ORIGINAL STRAIN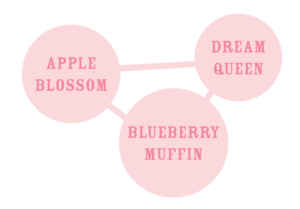 HYBRID (50% INDICA 50% SATIVA) |
SOME VARIATION | SWEET FLORAL APPLE
DELICATE FLORAL | SWEET APPLES
New for 2021, Year of the Exotics! Apple Blossom is a heavily selected cross of two of our earliest and most popular varietals, Blueberry Muffin x Dream Queen. This combo combines both one of our most unique and favorable terpene profiles (BBM) with one of our highest producing lines (DQ). Apple Blossom produces dense trichome-covered flowers, with hints of blue and purple.
STRAIN BENEFITS
Bred to grow and grow
Huge production
Sour lemon citrus smell
FLOWERING TIME 45 DAYS, September 15 – 30
20 REGULAR SEEDS PER PACK (PLEASE NOTE PRODUCT IMAGE IS OF FEM PACKAGE)!